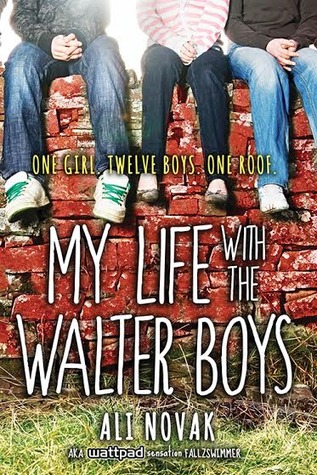 Judul : My Life With The Walter Boys
Penulis : Ali Novak
Penerbit : Sourcebooks Fire
Tahun terbit : 2014
Bahasa : Inggris
Genre : Young Adult, Contemporary Romance
Ratings : 3/5 stars
WARNING : SPOILERS!
"It's worse than horrible. I'm on a ranch in the middle of nowhere. Katherine Walter has twelve kids, and I haven't seen a Starbucks since leaving New York"
Pernah terbayang gak sih tinggal satu atap bersama 12 lelaki?! Itulah yang terjadi pada Jackie Howard. Setelah kecelakaan pesawat yang menewaskan kedua orang tuanya, dia harus pindah ke Chicago untuk tinggal bersama sahabat ibunya, Katherine Walters. Jackie baru mengetahui bahwa Katherine tinggal dengan 10 anak dan 2 keponakan, saat perjalanan dari New York ke Chicago. Ada Will, umur 21, sedang menempuh semester akhir dan sudah bertunangan dengan pacarnya sejak High School. Cole, umur 17, Menempuh tahun senior di sekolah dan memiliki kemampuan di bidang mekanik. Danny, kembaran Cole yang juga berumur 17, menempuh tahun senior di sekolah dan merupakan presiden drama klub. Isaac, umur 16, menempuh tahun juniornya di sekolah dan terobsesi pada perempuan. Dia merupakan salah satu keponakan Katherine. Alex, umur 16, menempuh tahun keduanya di sekolah, maniak video games. Lee, umur 16, juga menempuh tahun kedua seperti Alex dan seorang skater. Dia juga merupakan keponakan Katherine. Nathan, berumur 14 tahun dan seorang musisi. Jack & Jordan, berumur 12 tahun dan hobi merekam kegiatan kegiatan mereka, Parker, perempuan tapi sudah terlalu lama dianggap sebagai lelaki --" yang berumur 9 tahun dan suka bermain bola. Zack & Benny, si kembar berumur 5 tahun dan masih di taman kanak kanak.
Perkenalan Jackie dengan mereka sangatlah awkward, cenderung acuh tak acuh terhadap kehadiran Jackie. Hanya Cole dan Alex yang sering mengobrol dengan Jackie. Singkat cerita, Nathan, Danny, Cole dan Alex menjadi teman akrab Jackie. Sisanya, merupakan komplotan yang sering menjahili Jackie. Namun, hari demi hari ternyata dua dari 12 lelaki tersebut menaruh hati pada Jackie. Lantas, kepada siapakah hati Jackie berlabuh?
"You're living with a bunch of hot guys, and instead of finding Cole and experiencing some real-life anatomy, you're shacking up with a textbook like a pariah."
Oke, saya agak kesulitan untuk menulis reviewnya karena selain saya sudah cukup lama membaca buku ini, juga karena karakternya yang banyak sehingga sulit untuk menceritakan plot secara detail. Awal mengetahui buku ini karena saya sering baca di wattpad dan kemudian memutuskan untuk membaca buku ini versi yang sudah diterbitkan. Well, lebih baik sih dan terlihat progressnya dari segi alur dan gaya ceritanya. Cukup rapi. Walau sebenarnya saya masih lebih penasaran terhadap karakter Jackie sendiri. Ada kah sanak saudara yang masih berhubungan dengan Jackie? Sampai sampai orang tuanya meninggal, dia jadi tinggal sama sahabat ibunya. Dan meningat bahwa Katherine sudah tinggal bersama 12 orang anak belum ditambah dengan Jackie, saya jadi kasihan dengan Katherine ini.
Ide ceritanya unik, tapi saya sedikit kecewa dengan endingnya. Saya lebih suka dengan penulis yang bisa langsung menyelesaikan masalahnya. Jadi, ga bikin pembaca penasaran dan isi ceritanya gantung. Di buku ini, saya gak penasaran tapi malah kesel. Dari tengah buku sudah terlihat sekali bahwa sebenarnya Jackie lebih suka dengan Cole, namun karena ada Alex yang berada di antara mereka, ditambah dengan reputasi Cole yang jelek, Jackie malah pacaran dengan Alex. Kemudian Jackie putus dengan Alex, karena Alex masih gagal move on. Setelah itu, Jackie dan Cole sudah sama sama tahu apa yang mereka inginkan, Daaaaaan buku ini selesaai. Apa banget coba sih -___-. Bener bener nanggung, Lebih kecewa lagi saat saya tahu, kalo buku keduanya belum bisa dipastikan terbit atau tidak. Karena di wattpad pun, lanjutan buku pertama ini merupakan alternatif ending. -..- . Untuk penulis debut sebenarnya sudah lumayan banget. Tapi mungkin, saya yang sudah berharap ketinggian hahaha. Di luar itu semua, gaya ceritanya enak dan mengalir.
3 bintang untuk semua kejahilan Walter Boys.