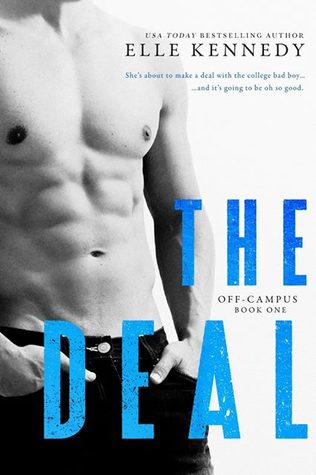 Judul : The Deal (Off-Campus #1)
Penulis : Elle Kennedy
Penerbit : Elle Kennedy
Jumlah halaman : 358 halaman
Tahun terbit : 2015
Genre : Romance, New Adult
Rating : 4/5 stars
Rating goodreads : 4.53/5 stars
She's about to make a deal with the college bad boy...


Hannah Wells has finally found someone who turns her on. But while she might be confident in every other area of her life, she's carting around a full set of baggage when it comes to sex and seduction. If she wants to get her crush's attention, she'll have to step out of her comfort zone and

make

him take notice...even if it means tutoring the annoying, childish,

cocky

captain of the hockey team in exchange for a pretend date.


...and it's going to be oh so good


All Garrett Graham has ever wanted is to play professional hockey after graduation, but his plummeting GPA is threatening everything he's worked so hard for. If helping a sarcastic brunette make another guy jealous will help him secure his position on the team, he's all for it. But when one unexpected kiss leads to the wildest sex of both their lives, it doesn't take long for Garrett to realize that pretend isn't going to cut it. Now he just has to convince Hannah that the man she wants looks a lot like

him

.
Buku ini menceritakan tentang kisah antara Hannah Wells dan Garret Graham. Hannah Wells merupakan seorang mahasiswa jurusan musik sedangkan Garett Graham merupakan mahasiswa jurusan sejarah dan merupakan seorang atlet hockey. Pertemuan mereka berawal saat Garret mendapat nilai F dalam salah satu mata kuliah, yang mengharuskannya untuk mengulang jika masih ingin bermain hockey. Hockey adalah dunianya, jadi Garret bertekad untuk melakukan segala cara agar diperbolehkan melanjutkan hobinya. Di sisi lain, Hannah merupakan salah satu mahasiswi langka yang mendapat nilai A+ di mata kuliah Garet gagal. Garett mengetahuinya, dan dari situ, Garret mulai mendekati Hannah dan memberikan tutor kepadanya. Dengan latihan musik dan kerja yang sibuk, Hannah terus menolaknya. Namun bukan Garett Graham namanya jika menyerah begitu saja. Garett kemudian mengusulkan cara lain yaitu dengan mengiming2i status sosial agar Hannah bisa mendekati pria yang disukainya. Hannah kemudian luluh, dan dari situ perjalanan cinta mereka dimulai.


Sooo good to be back, Thank God! Setelah bertahun tahun, review buku ini tertimbun di draft, akhirnya malam ini saya bisa terbitin haha. Awal tahu buku ini adalah ketika saya baca salah satu wawancara penulisnya. Saya kemudian penasaran akhirnya saya memutuskan untuk mencoba baca buku ini. Padahal, pas pertama saya liat penulisnya, saya sangsi berat karena buku sebelumnya yg saya baca terlalu HOT jadi saya agak engg gituu deh hahaha. Dan ternyata, saya suka sih sama buku ini. Sisi HOTnya ada tapi ga berlebihan, engga seperti buku beliau sebelumnya dan sweer juga. Yang lebih bikin saya suka sama buku ini adalah kedua karakternya yang menurut saya kombinasinya bagus banger. Apalagi si karakter ceweknya, dia tipe cewek yang sarkas dan mandiri banget. Karakter Garret juga cukup kuat disini, dia sosok kapten yang bisa mengayomi dan gentleman abis. Saya juga suka banget interaksi bromance Garrett sama temen 1 rumahnya yang juga anak buahnya dia juga di hockey. I love every page of it. Would totally recommend it to you guys! Sayangnya dari buku ini cuma satu yaitu masih kurang panjang sih menurut saya hahaha. Kabarnya juga ini akan dibikin series Off Campus gitu dengan karakter beda beda, termasuk teman temannya si Garrett ini. Can't waiitt!