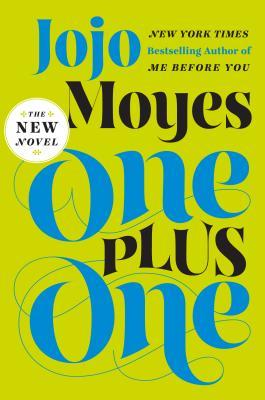 1. One Plus One - Jojo Moyes
One single mum

With two jobs and two children, Jess Thomas does her best day after day. But it's hard on your own. And sometimes you take risks you shouldn't. Because you have to . . .
One chaotic family
Jess's gifted, quirky daughter Tanzie is brilliant with numbers, but without a helping hand she'll never get the chance to shine. And Nicky, Jess's teenage stepson, can't fight the bullies alone.
Sometimes Jess feels like they're sinking . . .
One handsome stranger
Into their lives comes Ed Nicholls, a man whose life is in chaos, and who is running from a deeply uncertain future. But he has time on his hands. He knows what it's like to be lonely. And he wants to help . . .
One unexpected love story
The One Plus One is a captivating and unconventional romance from Jojo Moyes about two lost souls meeting in the most unlikely circumstances.
**) Setelah baca Me Before You, Jojo Moyes langsung menjadi salah satu penulis favorit saya. Kebetulan, bulan ini buku barunya terbit. Yay! Sepertinya saya harus siap siap uang untuk beli buku ini. Katanya sih, buku ini ga kalah bagusnya sama Me Before You. Jadi tambah penasaran, One Plus One sebagus apaa sih? =))
2. Sabtu Bersama Bapak - Adhitya Mulya
"Hai, Satya! Hai, Cakra!" Sang Bapak melambaikan tangan.

"Ini Bapak.
Iya, benar kok, ini Bapak.
Bapak cuma pindah ke tempat lain. Gak sakit. Alhamdulillah, berkat doa Satya dan Cakra.
…
Mungkin Bapak tidak dapat duduk dan bermain di samping kalian.
Tapi, Bapak tetap ingin kalian tumbuh dengan Bapak di samping kalian.
Ingin tetap dapat bercerita kepada kalian.
Ingin tetap dapat mengajarkan kalian.
Bapak sudah siapkan.
Ketika punya pertanyaan, kalian tidak pernah perlu bingung ke mana harus mencari jawaban.
I don't let death take these, away from us.
I don't give death, a chance.
Bapak ada di sini. Di samping kalian.
Bapak sayang kalian."
Ini adalah sebuah cerita. Tentang seorang pemuda yang belajar mencari cinta. Tentang seorang pria yang belajar menjadi bapak dan suami yang baik. Tentang seorang ibu yang membesarkan mereka dengan penuh kasih. Dan…, tentang seorang bapak yang meninggalkan pesan dan berjanji selalu ada bersama mereka.
**) Sebenernya saya takut masukkin buku ini ke wishlist. Karena apa? Karena saya takut nangis :| Saya tipe orang kalo membaca sesuatu yang ada hubungannya dengan orang tua, pasti mata saya berkaca kaca. Alasan saya masukkin buku ini ke wishlist karenaa saya tertarik baca setelah membaca beberapa review temen BBI. Gakpapa deh nangis, asal puass karena udah baca xD
3. 7 Kebiasaan Orang Yang Nyebelin Banget - Henry Manampiring
"Tidak semua orang bisa menjadi manusia yang berguna, tetapi semua orang harusnya bisa menjadi manusia yang tidak menyebalkan." Dengan keyakinan ini, maka 7 Kebiasaan Orang yang Nyebelin Banget ditulis. Berdasarkan temuan Survei Menyebalkan Nasional dengan lebih dari 1.000 responden, penulis memaparkan perilaku-perilaku menyebalkan yang sering kita temui sehari-sehari, atau kita lakukan tanpa kita sadari. Pembaca akan mengetahui apa saja perilaku yang dianggap menyebalkan di sekolah, tempat kerja, jalan raya, tempat umum, acara keluarga, saat pacaran, bahkan di social media.


Buku ini dihias dengan ilustrasi kocak dari Imbong Hadisoebroto, seorang ilustrator dengan pengalaman internasional.
Marilah menjadi manusia yang tidak menyebalkan!
**) Di segala kesibukan ramadhan dan drama pilpres tahun ini, saya butuh buku yang ringan dan penuh humor untuk menemani liburan saya. Berbagai testimoni yang ada di twitter mengatakan buku ini layak dibaca dan bikin pembaca ngakak ngakak. Sebelumnya, saya pernah sih baca beberapa postingan blog penulisnya tentang survey mahmud (Mwahaha!) Saya jadi penasaran sebagus apa sih bukunya. Ada yang sudah baca buku ini? xD