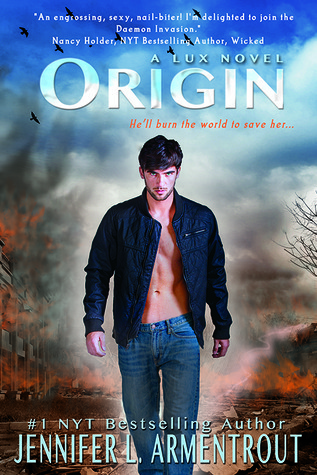 Judul : Origin (Lux #4)
Penulis : Jennifer L. Armentrout
Penerbit : Entangled Publishing
Tahun terbit : 2013
Bahasa : Inggris
Genre : Young Adult, Science Fiction, Paranormal Romance
Ratings : 4/5 stars
Review buku sebelumnya :
Opal
WARNING : This review contains
spoilers
from Opal (Lux #3). Read at your own risk.
Di akhir Opal, Daedalus berhasil mendapatkan Katy. Katy & Daemon terjebak dalam permainan Blake, dimana Blake menawarkan untuk membantu mengeluarkan Beth dari Daedalus dengan alasan bahwa dia membutuhkan bantuan untuk mengeluarkan temannya, Chris. Selama ini, Blake bekerjasama dengan Daedalus untuk menangkap Katy untuk diuji coba sebagai hybrid.
Buku ini diawali dengan kemarahan Daemon karena Daedalus berhasil menangkap Katy. Dan itu berarti bahwa Katy saat ini berada dalam bahaya. Setelah Katy tertangkap, Dawson berinisiatif untuk mengirimkan Daemon ke Komunitas untuk tidak kembali ke Daedalus untuk menyelamatkan Katy ( Setidaknya tidak untuk saat ini). Namun, Daemon berhasil keluar dan kabur dan mengancam Dawson untuk tidak mencegahnya kembali ke Daedalus untuk menyelamatkan Katy. Begitu juga pun dengan Dee yang mencoba membujuk Daemon untuk menunda rencananya ke Daedalus.
"If you're going to start in on how I need to wait and think this through, you can save it." I sat down on the bed, dragging a hand through my hair. "It's not going to change what I want."
"I know what you want, and i don't blame you." She cautiously stepped into my room. "No one wants to see you get hurt .. or worse."
"Worse is what Kat is going through right this moment. She's your friend. Or was. And you're okay with waiting? Knowing what they could be doing to her?" She flinched, and her eyes shone like emeralds in the low light."That's not fair," she whispered. "We can't lose you."she said after a few moments of awkward-as-hell silence."You have to understand that we did what we did because we love you."
"But I love her," I said without hesitation.
Daemon kemudian kembali mendatangi Luc-seorang origin yang juga pernah membantu mereka- untuk meminta bantuan untuk menembus Daedalus. Namun, Luc ternyata tidak bisa membantu banyak setelah percobaan masuk Daedalus yang terakhir tapi Luc bersedia membantu jika ia menemukan obat LH-11 di Daedalus. Kemudian sebuah ide cemerlang muncul di otak Daemon. Daemon kemudian berinisatif untuk menyerahkan diri pada Daedalus dan meminta untuk bertemu dengan Kat, dan sebagai timbal baliknya, Daemon bersedia melakukan apa saja untuk Daedalus. Penawaran itu diterima dengan senang hati oleh Nancy Husher, seorang pimpinan Departemen Pertahanan atau sering dipanggil Daedalus. Daemon berhasil bertemu dengan Katy, dan berhasil menyembuhkan memar memar bekas uji coba yang diberikan pada Katy. Mereka kemudian diberi test untuk mendapatkan hasil seberapa kuat mutasi yang dilakukan Daemon pada Katy, serta mengawasi kerja otak, tubuh saat pemanggilan 'sumber' dan seberapa kuat hubungan antara Daemon dan Katy.
Hasil uji coba mereka membuat Nancy dan dokter yang menguji mereka amatlah senang. Mutasi yang dilakukan oleh Daemon pada Katy dinyatakan berhasil. Koneksi diantara mereka sangatlah kuat. Mereka bisa berkomunikasi melalui pikiran saat Daemon berubah wujud. Alhasil, mereka terperangkap di Daedalus untuk menerima tes tes selanjutnya. Pernah suatu kali, untuk menguji kemampuan Daemon menyembuhkan, mereka harus melukai Katy dengan pisau bedah yang kemudian membuat Daemon muak, marah dan membuatnya menyusun strategi jalan keluar.
Hingga suatu hari, terdapat keributan di salah satu lantai di gedung Daedalus. Lantai tersebut merupakan lantai khusus untuk para origin, -anak dari perkawinan hybrid dan luxen murni-. Origin origin tersebut lepas kendali, dan mulai memberontak dan menyerang para penghuni Daedalus. Di tengah kekacauan, Daemon dan Kat mencoba untuk kabur, dan akhirnya mereka bisa menghirup udara bebas. Namun, mereka masih menjadi target Daedalus yang akan terus mengejar mereka.
Ditengah pengejaran mereka oleh Daedalus, akankah mereka kembali selamat?
Yaaay! Akhirnya bisa melanjutkan buku serial Lux ini. Di buku keempat ada yang berbeda dari buku buku sebelumnya. Apa itu? Di buku keempat ini, pembaca disuguhi tidak hanya sudut pandang dari Katy, tapi juga sudut pandang dari Daemon sendiri. Dan saya pribadi, merasa sangat bahagia bisa membaca yang ada di pikiran dan hati Daemon. It's kinda sweet to know that he loves her so much. Daemon sendiri di sini lebih sweet, lebih bisa menunjukkan bahwa dia cinta banget sama Katy. Gak hanya dari gesture gesture kecil, tapi Daemon juga sudah berani mengungkapkan cintanya pada Katy. Ditangkapnya Katy benar benar memberi pelajaran pada Daemon, bahwa hal hal yang kecil seperti menyatakan cintanya ke Katy ternyata menjadi hal yang besar dan berarti bagi hubungan mereka.
Sesuai dengan judulnya, Origin. Buku ini banyak memberikan penjelasan tentang Origin sendiri. Bagaimana Daedalus menguji coba perkembangan Origin dan bagaimana Daedalus ingin menguasai dunia dengan menjadikan Origin sebagai tentara. Dibanding dengan buku buku sebelumnya, menurut saya buku ini yang paling menegangkan. Buku ini lebih banyak actionnya, pertarungan antara Daedalus dan grup Daemon dkk yang kemudian beberapa karakter pendukung harus mati :(. Yang jelas, porsi action, fantasy dan romancenya buat saya cukup. Dan buat saya jadi gak sabar untuk menulis review buku selanjutnya.